Acquiesce Winery Recipes
Scallop Pancakes on Boston Lettuce Salad
4 First-Course Servings (About 12 Pancakes) Pancakes
by Jacques Pépin
1/4 pound scallops, rinsed under cold water to remove any sand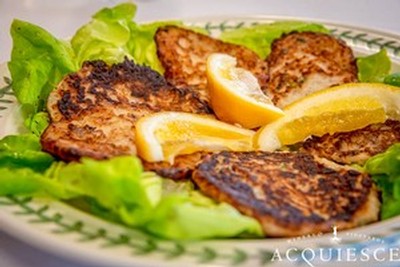 1/2 cup all-purpose flour
1/4 teaspoon baking powder
1-1/3 cups club soda
1/4 teaspoon salt
1/4 teaspoon freshly ground black pepper
1 tablespoon minced fresh chives
About 3 tablespoons peanut oil
Boston Lettuce Salad:
2–3 cups torn Boston lettuce, washed and dried
1 tablespoon extra-virgin olive oil
1-1/2 teaspoons fresh lemon juice
Dash each salt and freshly ground black pepper
For the pancakes: Put the scallops, flour, baking powder, club soda, salt, and pepper in a blender or food processor and process until smooth. Stir in the chives. Heat about 1 1/2 tablespoons of the peanut oil in a large nonstick skillet over mediumhigh heat. Spoon about 1 1/2 tablespoons batter per pancake into the pan. It will spread to form a disk about 3 1/2 inches in diameter. Cook about 6 pancakes at a time over medium heat for a total of about 5 minutes, turning them after about 2 1/2 minutes. Repeat with the remaining 1 1/2 tablespoons oil and the remaining batter to make about 12 pancakes total. Transfer to a wire rack to cool for a few minutes before serving.
For the salad: Toss the lettuce with the olive oil, lemon juice, and salt and pepper in a medium bowl. To serve, divide the salad among four plates, arrange 3 pancakes alongside or on top of the greens, and serve.
Try this with our 2019 Picpoul Blanc as seen in our Somm Thursday blog!
---
Butter Bean Canapés
by Jacques Pépin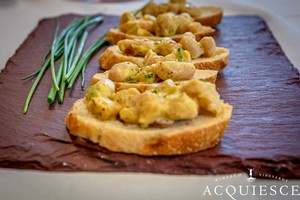 Jacques loves beans and the big butter beans (habas grandes) available in cans at the supermarket are well suited for these canapés. The bean mixture also makes a great first-course salad or meat accompaniment. If made up to 3 hours ahead, the bread will, for the better, soak up the juices from the beans.
Mix together in a bowl 1 can (15.5 ounces) drained butter beans (large white beans), 1 tablespoon Dijon mustard, 2 tablespoons fresh lemon juice, 3 tablespoons chopped onion, 2 tablespoons chopped fresh parsley or chives, 1 teaspoon chopped garlic, 3 tablespoons extra-virgin olive oil, and 1/2 teaspoon each salt and freshly ground black pepper. Cut twelve 1/3-inch-thick slices from a baguette. Mound the bean mixture on the bread slices. Serve.
Try this with our 2019 Viognier!
---

Provençal Mustard Fennel Spread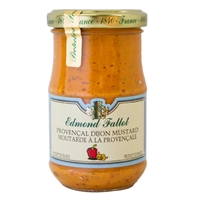 Ingredients
1 heaping tablespoon Provencal Mustard - (available in the tasting room)
1/2 cup mayonnaise
1 tablespoon curry powder
1/2 cup fennel, chopped
1/2 cup Emmenthaller Swiss cheese, shredded
Preparation
Put all ingredients in food processor and pulse until smooth. Serve immediately or refrigerate for up to 7 days. We like this spread with Club Crackers and pretzels or spread onto a grilled cheese sandwich.
We pair this recipe with Acquiesce Clairette Blanche in our tasting room.
---
Thyme Gouda Crackers
Ingredients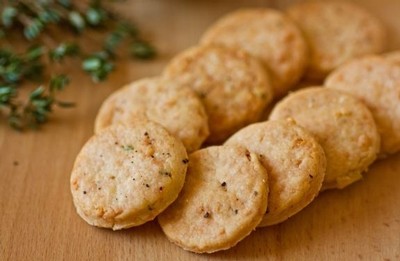 8 tablespoons unsalted butter, at room temperature
3 ounces grated gouda cheese
1 cup all-purpose flour
¼ teaspoon kosher salt
1 teaspoon chopped fresh thyme
1/2 teaspoon freshly ground black pepper
Preparation
Using a paddle attachment on a stand mixer, beat butter until creamy. Add gouda, flour, salt, thyme and pepper and beat until it clumps into a ball and pulls away from sides of the bowl.
Turn the dough out onto a large sheet of parchment paper and roll into a 13-inch log.
Wrap tightly in parchment paper and freeze for 30 minutes until firm. Preheat oven to 350 degrees. Slice the log into ¼ inch pieces and bake on a sheet pan for 12 to 16 minutes until firm and golden brown. Makes 30 to 40 crackers.
We pair this recipe topped with Violet Flower Confit and Acquiesce Grenache Blanc in our tasting room.
---
Moroccan Spiced Crackers
Ingredients
Spice Blend
1 teaspoon ground cumin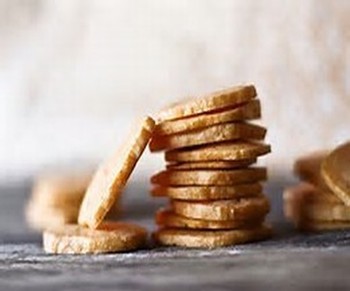 1 teaspoon ground ginger
1 teaspoon salt
3/4 teaspoon black pepper
1/2 teaspoon ground cinnamon
1/2 teaspoon cayenne
1/2 teaspoon ground coriander
1/2 teaspoon ground allspice
1/4 teaspoon ground cloves
The Cracker
1 stick unsalted butter
5 ounces bread flour
3 ounces grated manchego cheese
1 tablespoon Moroccan spice blend (adjust to taste)

Mix butter with paddle mixer until creamy. Add cheese, flour, and spice blend and mix until a ball forms. Roll dough into a log about 12 inches long (change length for desired cracker diameter)Wrap in plastic wrap and refrigerate for about 30 minutes. Slice roll into 3/8" slices
Bake at 350 degrees for 12 to 15 minutes
We pair this recipe topped with Mango Chutney and Acquiesce Viognier in our tasting room.
---
Pork Chops Gratinées
2 thick cut, bone in pork chops (about 1 1/2 inches thick)
sea salt
freshly ground black pepper
2 tablespoons lemon olive oil, or regular olive oil
1 onion, thinly sliced
1/2 cup Belle Blanc, more as needed
1 small head Savoy cabbage, thinly sliced
1/2 cup cream
4 ounces Gruyère cheese, grated
Preheat oven to 400°F.
Pat the pork chops dry using paper towels; season with salt and pepper. Heat oil in a large skillet over medium-high heat and brown chops well on both sides, don't worry about not cooking them all the way through, as they will finish cooking later. Remove chops and put them in a baking dish; set aside.
Sauté onions in same olive oil as chops, so that it gets some of the pork fat in addition to the lemon oil. Once they are soft and slightly browned from the drippings, add Belle Blanc and bring to a simmer. Add the sliced cabbage. Don't let the pan burn dry; if you need a tablespoon or more of wine, add it.
Once cabbage is wilted, reduce temperature to low and add the cream. Reduce the liquid until it is thickened. Spoon the mixture over pork chops. Sprinkle with grated Gruyère and season with salt and pepper to taste.
Bake until cheese is bubbling and golden brown – about 20 minutes. Let sit 5 minutes, allowing juices in the pork to settle.

Serves 2 Serve with our Acquiesce Belle Blanc
---
Goat Cheese with Meyer Lemon & Thyme
5 ounces (about 3/4 cup) soft fresh goat cheese, room temperature
2 teaspoons chopped fresh thyme
2 teaspoons grated Meyer lemon zest
1/4 teaspoon garlic powder
1 tablespoon Lodi Olive Oil
Place goat cheese in medium size mixing bowl. Mix thyme, lemon zest and garlic powder into the goat cheese. Prepare a small dish by placing plastic wrap in the bottom of the dish. Mound and press goat cheese mixture into the dish, covering with plastic wrap. Chill until ready to serve, then drizzle with olive oil. Great with pretzel chips or pita chips.
Paired with our 2015 Acquiesce Grenache Blanc
---
The latest pairing with our Gold Medal 2014 Roussanne in the tasting room . . .
Manchego, Tomato & Rosemary Tapa
2 vine-ripened tomatoes, 2 tablespoon extra virgin olive oil, pinch of kosher salt, 5 twists of fresh ground black pepper - on the coarse setting, 10 oz Spanish Manchego cheese, fresh rosemary
Cut the tomatoes in half and grate it into a bowl. All of the pulp will come off of the skin and fall into the bowl with the seeds. Add the olive oil and season with salt and pepper.
Cut off the rind of the Manchego cheese and cut it into cubes. Remove leaves from rosemary and chop well. Toss all the ingredients in the bowl. Serve either immediately, or after being refrigerated for up to one day or so.
---
Also great with the Viognier is the . .
Beet, Goat Cheese & Marcona Almond Salad
1 1/2 pounds beets, peels on, greens removed, scrubbed clean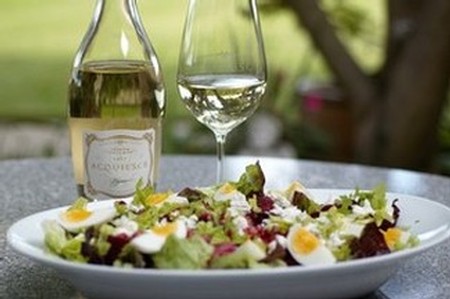 1 tablespoon vegetable oil
Kosher salt and freshly ground black pepper
1/4 cup toasted marcona almonds, roughly chopped
1 tablespoon honey
2 tablespoons white wine vinegar
1 tablespoon finely minced shallot (about 1 small)
4 tablespoons extra-virgin olive oil
2 small white onion, finely sliced (about 1/2 cup)
1/2 cup pomegranate seeds
4 ounces goat cheese
2 to 3 hard-boiled eggs, quartered
1/2 cup leaves from the center of 1 head of celery
DIRECTIONS 1. Preheat oven to 375°F. Fold a 12- by 24-inch sheet of aluminum foil in half to form a square. Crimp two edges to form a pouch. Toss beets, vegetable oil, and salt and pepper to taste in a medium bowl until coated. Add to pouch and crimp remaining edge to seal. Place on a rimmed baking sheet and place in oven. Roast until beets are completely tender and a toothpick or cake tester inserted into beet through foil shows little to no resistance, about 1 1/2 hours. Remove from oven and allow to cool.
2. Combine almonds, honey, vinegar, and shallots in a medium bowl. Whisking constantly, slowly drizzle in olive oil. Season dressing to taste with salt and pepper.
3. When beets are cool enough to handle, peel by gently rubbing skin under cold running water. Cut beets into 1 1/2-inch chunks.
4. Toss beets, pomegranate, onion, and dressing together in a large bowl. Transfer to a plate. Garnish with goat cheese, boiled eggs, and celery leaves. Serve immediately.