TOP
October 3, 2019 | Robin Black
2019 Fall Shipment - Meet the Wines!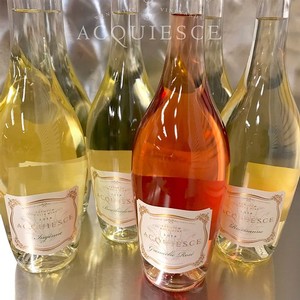 2018 Ingénue (2 bottles)
A blend of Grenache Blanc, Clairette Blanche, Bourboulenc and Picpoul Blanc, the Ingénue has a very high-toned, exuberant nose of primarily minerals and fresh fennel, with suggestions of lemon/citrus and spring/floral notes; medium-full body of moderate weight despite meaty, slightly dense, textured qualities, finishing with mineral and citrus notes in the mouth. We enjoy this wine with gruyere grilled cheese, tomato tart, pork belly, goat cheese and so much more. Best of Class & Double Gold in the 2019 International Women's Wine Competition plus Gold & Best of Class in the 2019 Sunset International Wine Competition.
2018 Bourboulenc (2 bottles)
We are the first winery in the U.S. to release this varietal that has been grown in France for hundreds of years. It's got a great natural acidity, with citrus flavors of orange and key lime and with a honeyed beeswax finish. We find that it pairs well with fish (a natural with bouillabaisse!) and even shines with spicy foods. Gold Medal - 2019 International Women's Wine Competition.
2018 Roussanne (1 bottle)
This wine has the most diverse characteristics of all of our varietals. The mouth is juicy yet still restrained, with flavors of apricots and cream. The finish is mineral, with almond, pear, floral and even some honey notes. It stands up to rich shellfish, salmon, spicy foods and garlic stir-fries. A must with foie gras! Gold Medal - International Women's Wine Competition 2019.
2018 Grenache Rosé (1 bottle)
This Provençal style dedicated rosé has a delicate salmon color with aromas of watermelon, strawberry and lime. Our Grenache grape clones come from both the famous French Château de Beaucastel Winery in the Châteauneuf-du-Pape region and from the renowned Alban Grenache clone; the cool nighttime breezes from the Mokelumne River nearby gives the grapes ripe, fruity flavors with excellent balance. This wine pairs well with any food but try it with Mediterranean cuisine or Spanish tapas for a special treat—or just enjoy it outside on a sunny day! Gold Medal - 2019 Sunset Magazine's International Wine Competition.
Comments
Commenting has been turned off.