TOP

December 9, 2016 | Sue Tipton
Harvest 2016 Kickoff!
Following a winter and spring that brought some nice and needed rainfall, the vineyard is in really nice condition with all of the newly planted 7 acres well established. With harvest underway our focus has turned to the adult vineyard as we harvested and "luvsqueezed" (pressed) our viognier yesterday and I am really very excited about the flavor and balance of the juice.

Next up looks like Grenache Blanc which is at 20 brix right now and should be ready within the next 3 weeks. Stay tuned for status updates and you're welcome to stop by for peak at harvest and pressing activities with the AV team. Over the coming several weeks, all the wines will go through a long cool fermentation and finally their lives as wines in a sexy bottle begins in January.
This week we had the pleasure of hosting the Wine Bloggers 2016 Conference here in Lodi with many tours, excursions and discovery activities for the nearly 300 bloggers attending. At Acquiesce we were glad to host a pre-conference group on Wednesday with a vineyard and full tasting tour to kick off their activities as well as a really fun group that selected the "Pick a Peck of Picpoul" excursion that consisted of a vineyard and winery tour, tasting of freshly pressed Viognier juice, a full tasting experience followed by dinner at our home with 2 beautiful Can Can dancers . . . how French can you get?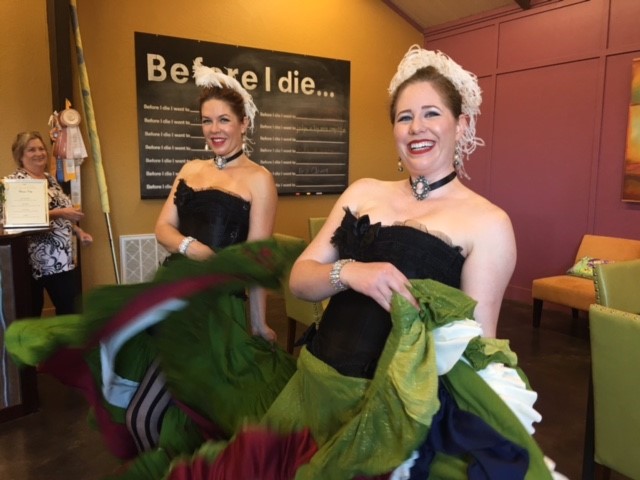 A fabulous dinner prepared by Jennifer Kupka of the Lodi Airport Café paired very nicely with Grenache Blanc, Belle Blanc, Roussanne and Viognier. Pictures are nice but tasting is...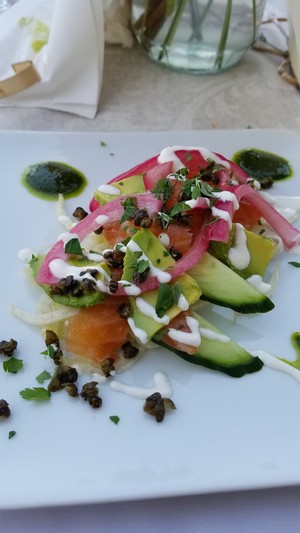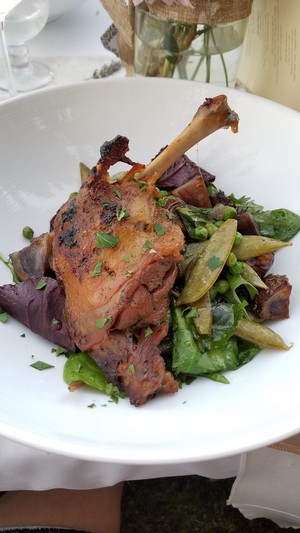 We are often asked about White Rhone varietals in Lodi and the long-standing misconception that Lodi is not suited for growing white wine grapes. Here a few facts that help explain the why and how of the differences and similarities of the Lodi region and the Southern Rhone region of France.
Let it be known that we adore wines from the Rhone region and drink them often. Of course we love our versions as well so what are the differences? French versions are a bit rounder in body and mouth feel and sometimes some oak can be detected. They are not very acidic but the finish can still be long and pleasing.
Acquiesce's Lodi versions are brighter with notes of fruit coming across on the aroma as well as the palate. They are higher in acid and have no issue staying with you through a nice long finish and can be paired well with an impressive array of foods. The pairing possibilities range from casual and informal snacks (Maui onion potato chips) to gourmet foods of fish, pork, poultry and beef of many variations.
Sidetracking for just a moment, there is another common misconception that white wine pairing options are limited to certain foods. How many times have you heard " if you're having a white wine order chicken or fish"? That's just sad and very limiting so we are determined to open as many minds and mouths as possible to the truth about white wine versatility. Note: might be a book in our future
Okay, back to the main topic at hand. Historical weather information indicated in the charts below (we chose the years 2000 to 2015 show that Lodi is a few degrees warmer during the day AND a few degrees cooler during the night which, when coupled with the consistent delta breeze makes a key impact on the quality of the grapes. Another key factor is rainfall and time to ripen. Lodi doesn't see any significant rainfall during the growing season which allows us to water to the exact amount we feel is best for flavor and extend the season for full mature ripe fruit.
These factors are only a portion of what is known as terroir and I'll have more on the total terroir coming soon.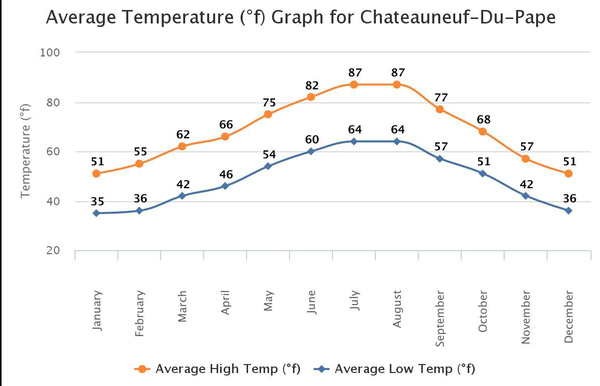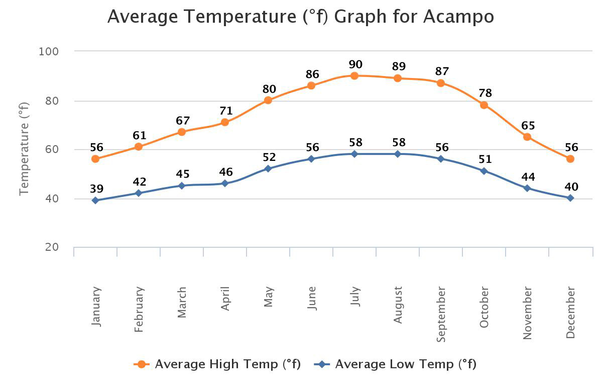 The next time you relax and enjoy a crisp Acquiesce white wine, you might take a few minutes to contemplate the weather pattern here and maybe even do what I do, thank mother nature for the blessing.
Here's to the French Rhone and Lodi appellations!
And now our newest pairing recipe find.. From Serious Eats (our real go to food site) and Daniel Gritzer
Yukon Gold Potato Salad With Tarragon Pesto and Pickled Onions Recipe
Definitely a treat with our Roussanne (we enjoyed it along side a nice smash burger)
Cheers and looking forward to seeing you soon!
Comments
Commenting has been turned off.