TOP
November 9, 2019 | Robin Black
Meet Deanie Bridewell, Our Tasting Room and Wine Club Manager
Welcome to the first in a series of staff profiles for our team at Acquiesce! We couldn't do what we do without them, and thought it would be fun for you to get to know them, too.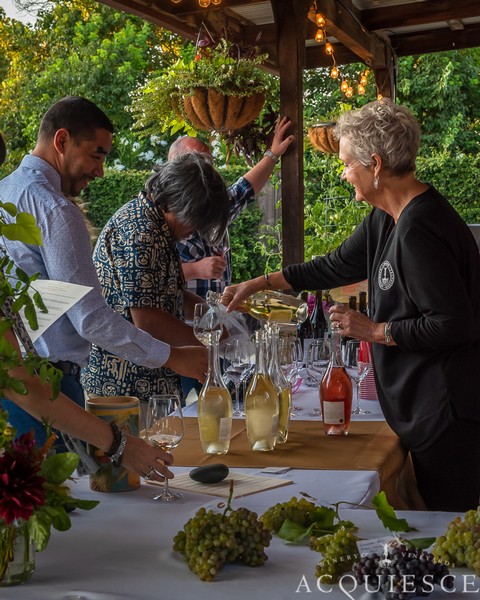 If you've been in the Acquiesce tasting room, and especially if you're one of our wine club members, you've most likely met or spoken with our tasting room and wine club manager, Deanie Bridewell. Her gracious and gentle demeanor sets the tone in the tasting room, and she keeps things running smoothly on all fronts.
Deanie previously worked at the City of Lodi's Hutchins Street Station, where she was the Manager and Event Coordinator.
***
What brought you to Acquiesce?
I met Sue (Tipton) while I was the Event Coordinator and Manager of Hutchins Street Square. My emphasis was supporting the Arts. We met planning the Artisan Masters, a fundraising collaboration between the Lodi Arts Commission, the Lodi Arts Foundation and local wineries.
What was your background prior to coming to Acquiesce?
I started working for HSS in 2004. During that time, I attended Sacramento State and received a Certificate in Event Planning. Lodi art events provided opportunities for me to meet local wine makers who were always generous in their support and donation of wine when asked to help. Although I worked with many winemakers, my knowledge of Lodi wines was limited.
How long have you been in the Lodi area, and what do you like about it?
I moved to Lodi from Sonoma County in 2004. Lodi offers a small town feel while providing great wine tasting, art events and recreational opportunities.
What's your (current) favorite wine in the Acquiesce lineup?
Right now I'm loving the Grenache Blanc. The Grenache Rosé is always a consistent favorite. Having Belle Blanc back on the menu is a treat, and I'm waiting for a special moment to open my 2014 Roussanne. I can't wait to try that!
What do you like about working at Acquiesce?
I feel blessed to work with Sue. I respect her philosophy and spirit to produce world class wines. I enjoy the delight customers find in her white wines, especially the staunch red wine only lover, once they take the chance. And I love working with the Acquiesce staff. They are the best and truly committed to their passion and support of Acquiesce and providing the very best experience for our guests.
What do you enjoy doing in your free time?
When not working, I love traveling—whether it is a trip to the ocean or abroad. This summer I had the opportunity to meet Sue and Rodney in Uzes, France. It turned out that in our small cooking class we were surprised by having two Acquiesce wine club members show up who were also enjoying a holiday. I also am Noni to five wonderful grandchildren who I can never get enough of.
***
Deanie provides such a positive guiding presence at Acquiesce. Sue Tipton notes "Deanie is the ultimate customer service professional; nothing makes her happier than greeting our guests or getting to know a new wine club member. She's interested in pleasing our customers and being a mentor to our tasting room staff."
Be sure to say "hi!" to Deanie next time you stop by!
Comments
Commenting has been turned off.