TOP
October 31, 2019 | Robin Black
Our 2018 Belle Blanc has arrived!
Acquiesce's Châteauneuf-du-Pape-inspired blend, Belle Blanc, is an homage to Sue Tipton's origin story as a winemaker. She's almost certainly told the tale too many times to count now, but the wine she tasted that started her on the journey that would become Acquiesce, with all its wines we know and love, was a white Châteauneuf-du-Pape blend. If you can get her talking about that wine, she still waxes rhapsodic in describing it.

We can certainly identify-we're just as likely to wax rhapsodic about the Belle Blanc when you ask about it in the tasting room. It's a perennial staff favorite (and customer favorite!), and the 2018 vintage is no exception.
All of our grapes are hand-picked and immediately pressed as whole clusters to capture their fresh, flavorful character. The grapes were harvested in the early morning to keep acidity at its highest, providing the vibrancy in the wine. The juice is then cool fermented in temperature controlled stainless steel tanks to highlight the pure fruit expressions.
Our estate fruit is in the Mokelumne River AVA of the Lodi Appellation, and our grape clones are Tablas Creek cuttings from the famous French Château de Beaucastel Winery in the Châteauneuf-du-Pape region. Our climate is very similar to that of the Southern Rhône with cool nighttime breezes from the nearby Mokelumne River giving our grapes their ripe, fruity flavors with excellent balance.
This luscious white offers wonderful mouth feel and tropical flavors; the lovely aroma of pear, honeysuckle and gardenia give way to a long, dry finish. Each variety brings something special to the blend: the Grenache Blanc brings aromas of dried apricot, green apple, and stone fruit, the Roussanne provides an almond and floral note, and the Viognier adds a honeyed tangerine finish.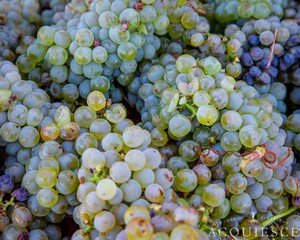 Belle Blanc is an exceptionally versatile blend, pairing well with summertime dishes like citrus salads, ceviche, oysters, crab, but also pairs beautifully with heartier fall and winter dishes such as chicken and pork; try it with a traditional cassoulet or the Pork Chops Gratinées featured in the Recipes section on this website. We call it our Thanksgiving wine because it pairs so beautifully with all the rich dishes on our holiday table, from the turkey on down (and we think it'd go great on your Thanksgiving table, too).
Belle Blanc was just awarded a Gold Medal at the prestigious Sunset Magazine International Wine Competition 2019. It's available for purchase on the website and in our tasting room. $34/bottle.
Comments
Commenting has been turned off.