TOP
August 15, 2019 | Robin Black
Meet our 2018 Roussanne!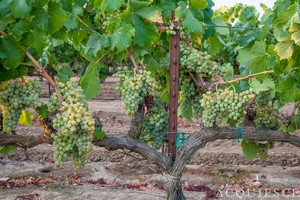 Our newest release from the vineyard is our 2018 Roussanne, a true Rhȏne grape that originated in the northern Rhȏne valley in France. This is our eighth vintage of the sometimes-temperamental variety, and we are excited about what we're tasting so far. It's already earned a gold medal at the 2019 International Women's Wine Competition, and impresses with aromas of tea rose, white flowers and a hint of spice on the nose, and it unfolds on the palate with notes of pear, apricot and a rich mouthfeel. The finish lingers with flavors of almonds and honeycomb. A backbone of minerality and acidity keeps this wine gorgeously balanced and delicious alone or with pairings from seafood to foie gras. As with all our wines, it is produced in 100% stainless tanks and never goes through malolactic fermentation, allowing the pure fruit flavor of our unique Lodi-Mokelumne River AVA terroir to really shine through.
While Roussanne is perhaps the most ageable of Rhȏne white varieties—and is often referred to as the white wine for red wine drinkers thanks to that ageability and all-around richness--it does have a bit of a reputation.
"Roussanne is a spindly plant, susceptible to wind, to rot, mildew, and oidium. Uneven ripeness, as well as botrytis, is common, and multiple passes are frequently required for a proper harvest. In the vineyard it is so fickle, in fact, that a grower at Novovine, a Sonoma nurseryman, gave it the nickname 'the Princess.'"
-Patrick Comiskey, American Rhȏne
In the next breath, however, those who bemoan Roussanne's finickiness will become downright poetic in describing the beautiful wines this grape produces. Is the princess worth all the trouble? The answer is YES.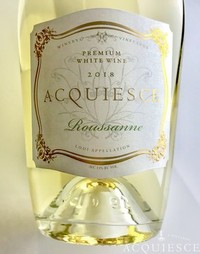 It can certainly be a bit of a problem child in our vineyard, but we also have a slightly more hospitable environment for Roussanne here in Lodi, where we have a longer growing season and no troublesome winds like southern France's Mistral.
One of the keys to growing Roussanne with best results is to keep yields low (which in turn keeps Roussanne's acid levels in check), which we do with all our fruit at Acquiesce. At harvest, all the fruit is hand-picked and whole-cluster pressed.
Our 2018 Roussanne has just been released, and you can purchase it from our website or in our tasting room where we've just added it to our tasting flight.
307 cases produced, 100% estate grown
$32 Retail
Comments
Commenting has been turned off.