TOP

May 7, 2013 | Sue Tipton
The Dream . . .Chateau Beaucastel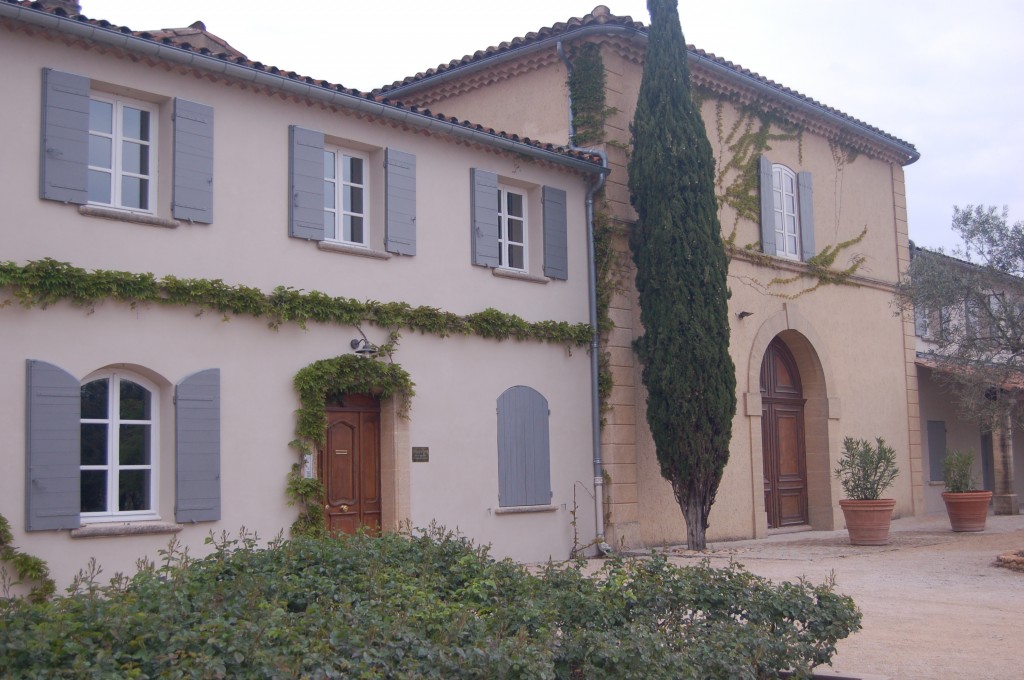 Chateau Beaucastel
The day I tasted my first white Châteauneuf du Pape wine, my life changed. It was the best wine I had ever had. So I quickly drove back to the store for a couple more cases of this wonderful nectar, only to be told I was holding the last bottle in California! Okay, what's the deal? After research, I realized that the CDP area of France is mostly known for their lovely Grenache, Syrah & Mouvedre blends and don't produce many whites. The whites consist of blends with Grenache Blanc, Roussanne, Viognier, Clairette and a few other varietals. I decided to give the Grenache Blanc a try and was pleased with the results in our vineyard . . .so I planted Roussanne, Viognier and Picpoul Blanc. These cuttings came by way of Tablas Creek Winery in Paso Robles, California. Tablas is partners with Chateau Beaucastel in Châteauneuf du Pape, where these varietals origninated.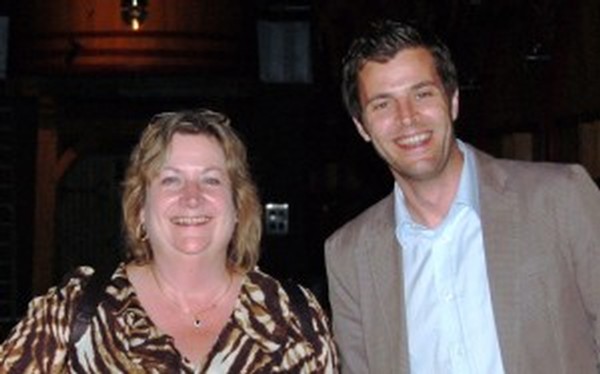 Now I was in Châteauneuf du Pape and I wanted to return to the source, the Mothership, so to speak. I had an appointment with English speaking Richard Haug-Adrion who gave us a tour of the famous Chateau Beaucastel. As one of the most famous wineries in the world, I was surprised at the lack of cars in the drive, tasting room sign or even a welcome sign. I went up to the door and pushed a button. Richard was waiting for us and buzzed us in. I felt like I was entering someone's elegant home . . .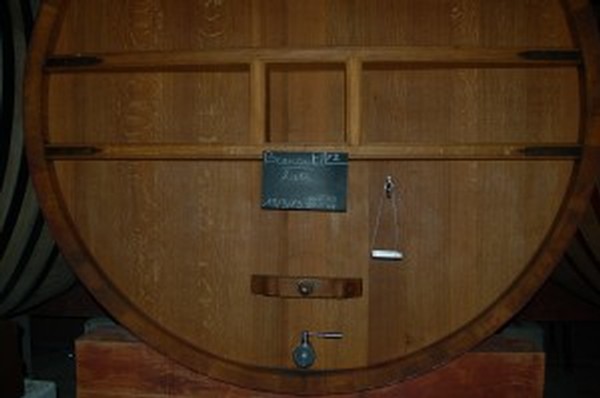 We were warmly greeted and taken to the cellar filled with large, beautiful wooden fermentation vats where the process of winemaking begins. After fermentation, the wines are moved to large wooden barrels to age until the blending and bottling process begins.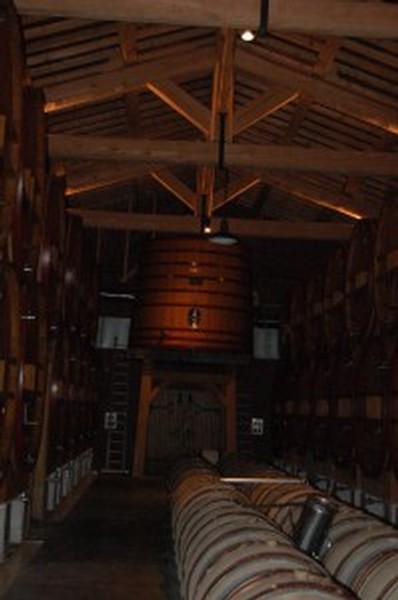 After leaving the barrel room, we entered a cavern of bottles, rows and rows of unlabelled bottles. Since Beaucastel sells to so many different countries, they don't label their wine until they have a firm order and then apply the correct label applicable to the country. The bottles are piled 10 plus deep and rest on a bed of sand to prevent breakage . . . do you think they'd miss one unlabelled bottle?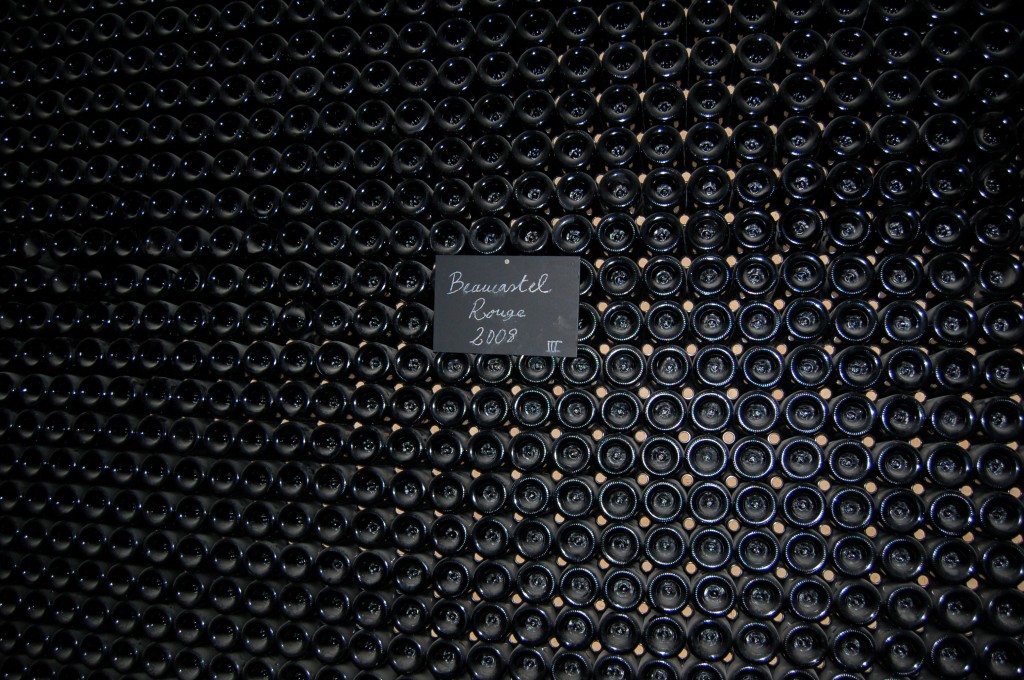 I learned that records show a Pierre de Beaucastel buying this property in 1549, but the first mention of vines on the property date to 1792. The Perrin family acquired the property in the early 1900′s and its been in their family since.
After the bottle room, on to some tasting . . . yes! We tried 2 beautiful whites, the first was the 2011 Coudoulet de Beaucastel, a lovely Famille Perrin wine that must be labeled Cotes-du-Rhone, since a new road cut their vineyard into two pieces and these grapes were no longer in CDP. The Coudoulet is a blend of Marsanne, Viognier, Bourboulenc and Clairette. The second white was the CDP Vielles Vignes which is 100% Roussanne from 75 year old vines and had lovely acacia flower and honey aromas with a very rich finish. We actually tried a 2009 Vielles Vignes with dinner the night before with an amazing foie gras and the finish just wouldn't stop.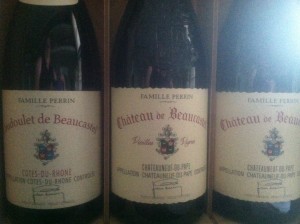 The red wines were just as amazing, showcasing their Mourvedre and Grenache, with additions of Syrah, Counoise and Cinsault. There were definite notes of berry, leather with spice and pepper on the palate.
Of course, even though it required the purchase of a suitcase, we had to bring some of these precious beauties home!
Overall, it was a dream come true and I'm still smiling! Thank you Chateau Beaucastel for the tour, the tasting, but most of all for making great wines.
Next, I'll share our tours of other wineries in the CDP community and talk about the winemakers and our tour guide. . .
Comments
Commenting has been turned off.