TOP
March 26, 2020 | Robin Black
Walking the Walk: Sustainability Changes at Acquiesce!
If you've already received your spring release you may have noticed the new addition to the Acquiesce family: our custom bottle with Lady Acquiesce embossed on the bottom!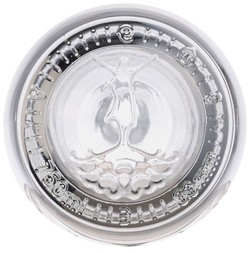 After more than a year of research, design and planning, we are excited to show off our new proprietary bottles. This slightly sleeker, significantly lighter glass bottle is a custom design imported from Italy. We will save an estimated 12,600 pounds per year in glass with this lighter bottle—that's an average of about three pounds per case, or four ounces per bottle! And yes, it holds the same 750ml of wine, as always. You will also notice when you receive your spring selection that we are no longer using Styrofoam, which cannot be recycled. All packing we use is now made from recyclable paper and pulp.
This will significantly lighten our carbon footprint on shipping while still maintaining the beautiful, iconic curved bottles we've all come to love as emblematic of Acquiesce's premium Rhône-style white wines. And instead of the punt—that depression on the bottom of the bottle—we now show off our Lady Acquiesce. In this side-by-side picture, our 2018 Belle Bla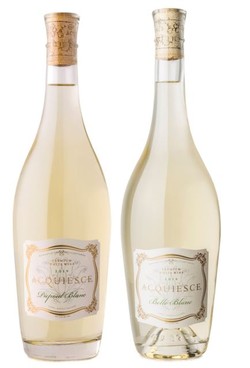 nc is on the left and our 2019 Belle Blanc in the newly designed bottle is on the right.
Those of you who've told us our voluptuous bottles can be a tricky fit in a wine rack will really love the new design, which should fit into standard racks with no problems. It's also a little easier to grip the new streamlined bottle for pouring, so it's an improvement on all levels.
Better in your hand, better in your wine rack, and better for the environment.
Compare it to its predecessor and see if you can tell how that reduction was achieved!
Stay tuned for more sustainability updates from Acquiesce—we think you'll love the changes we're making that are better for you, and better for the planet!
Comments
Commenting has been turned off.