TOP
2019 Grenache Rosé


Wine Specs
Appellation
Lodi Mokelumne River
Vineyard Designation
Acquiesce Estate Vineyards
Aging
6 months sur lie Stainless Steel tanks
DOUBLE GOLD Medal!
2020 International Women's Wine Competition
Totally Provençal style with a salmon hue, this rosé has hints of strawberry and watermelon with a refreshing crisp mouth feel. Delicious on its own, this wine pairs with almost any food.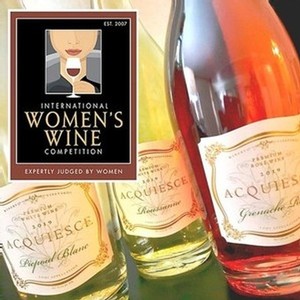 Wine Specs
Appellation
Lodi Mokelumne River
Vineyard Designation
Acquiesce Estate Vineyards
Aging
6 months sur lie Stainless Steel tanks
Wine Profile
Tasting Notes
This Provençal style dedicated rosé has a delicate salmon color with aromas of watermelon, strawberry and lime.
Awards
Double Gold Medal - International Women's Wine Competition 2020
Vineyard Notes
We have 1.5 acres of estate Grenache for our dedicated Rosé. Our grapes were harvested from our estate vineyard located in the Mokelumne River AVA of the Lodi Appellation. Our Grenache grape clones come from both the famous French Château de Beaucastel Winery in the Châteauneuf-du-Pape region and from the renowned Alban Grenache clone. The cool nighttime breezes from the Mokelumne River nearby gives the grapes ripe, fruity flavors with excellent balance
Production Notes
6 months sur lie Stainless Steel tanks 635 cases produced
Winemaker Notes
Our estate Grenache grapes are grown under the Lodi Rules for sustainable winegrowing. They were hand-picked and the majority of the grapes were whole cluster pressed, with the remainder crushed and cold-soaked before pressing. The grapes were harvested in the early morning to keep acidity at its highest, providing the vibrancy in the wine. The juice is then cool fermented in temperature controlled stainless steel tanks to highlight the pure Lodi fruit expressions.
Food Pairing Notes
Pairs well with any food but try it with Mediterranean cuisine or Spanish tapas for a special treat … or just enjoy it outside on a sunny day!
Other Notes
Acquiesce Winery is Lodi's only dedicated white wine winery. We make premium, food-friendly, white wines and rosés from estate grown wine grapes. Our vines are lightly watered and thinned. The grapes are then handpicked and whole-cluster pressed to maintain their optimal fruit characteristics. We acquiesce to the grapes. . . and to nature.
Product Reviews
Bradley Alderson
(Apr 14, 2020 at 8:52 AM)
Best color of any vintage so far, very aromatic nose. Plenty of fermentation esters of course but the intensity of varietal flavor is quite high. Stunning with great balance and an impressive linger. There is a touch of waxy tannin in the finish. First Rose of the vintage and its sets a very high standard. 13% alc
Ann Leonard
(Apr 28, 2020 at 9:14 AM)
This is my new favorite spring/summertime wine. Lovely.
Cristina Moss
(Apr 30, 2020 at 9:38 AM)
Honestly, one of my favorites! I first tried this wine in their tasting room end of last year, and brought a bottle home with me. I finally drank it a couple months ago, and the second I did I knew I needed more. It's absolutely delicious. I bought a half case and the shipping was fast and seamless. I'll probably buy another case in the next couple weeks now that the weather is getting nicer. Thanks you!
Judith L Wudel
(May 5, 2020 at 8:17 AM)
This is one of my favorite Acquiesce Wines! While it is hard to make just one of these fine Acquiesce wines a favorite, this is at the top of my list. You can enjoy this very refreshing Rose anytime of the year and in particular it is a crisp refreshing wine to enjoy on a warm California evening! Cheers
Kathleen Bento
(May 14, 2020 at 9:38 AM)
This is consistently my favorite Rose every year. Every time I open a bottle of this for family and friends, I better have another one ready to go. It truly goes with any food. It's so refreshing on a hot summer day. LOVE it!
Ken McKee
(Jun 1, 2020 at 5:29 PM)
A wonderful rose. The color has a lovely pink hue, the flavor reminds one of ruby red grapefruit, the finish is long and pleasant, with good balance of acidity and flavor. Home run!
JoAnn DeGaglia
(Jun 17, 2020 at 12:30 PM)
Just recently tasted this wine at a friends. It was crisp and refreshing with a compelling minerality. Aromatic with vibrant berries, citrus and a whiff of melon. Balanced with a clean long finish. You can taste all the care that went into crafting this lovely Rose. Bravo!
Lori Taste
(Jun 29, 2020 at 10:31 AM)
Love all of the Acquiesce wines, but this is my absolute favorite! Great any time of the year, especially in the Summer.
Cynthia Sutko
(Jun 30, 2020 at 10:54 AM)
Quintessential dry Rose that is so food friendly. I drink this delicious wine all year round!
Jenny Grimes
(Jun 30, 2020 at 11:24 AM)
It really does "love all food", and is also wonderful for just sipping. Lovely dry French-style wine. One of our favorites!
Mary Triulzi
(Jun 30, 2020 at 2:18 PM)
Happened upon Acquiesce my first trip Lodi this past February. Love at first tasting. This rose is lush and satisfying for every occasion. Don't let the smoothness fool you. This wine is complex and checks all the boxes for nose, body and finish. Highly recommend.
Wendy
(Jul 6, 2020 at 8:25 AM)
Love the flavors of this wine. Definitely minerals, yet not overpowering. The blend of minerals and fruits give me a whole mouth feel. I can drink it with just about anything...or nothing. Well done.
Erika Honsinger
(Jul 11, 2020 at 11:14 AM)
Love the Grenache Rose. My go to wine for a warm summer evening. The aroma is sweet and it tastes like strawberries with a smooth finish.
Lynne Baker
(Jul 12, 2020 at 7:36 PM)
This is one of my favorites. Not sour or highly acidic like many other rose wines out there. It's yummy lots of flavor not too sweet. Love it alone without food it tastes so good!
K C
(Feb 11, 2021 at 4:16 AM)
One of the more exciting roses we've encountered over the last 30 years......
Dee Trotta
(Feb 12, 2021 at 4:43 PM)
My preference is usually Chardonney and crisp white wines. I've never been a big fan of Rose' which I considered too sweet and heavy. But this Grenache Rose' is definitely the best I've ever drank. Over the Holidays I took a bottle to a family dinner and wish I'd taken two. It was a hit with the other guests and I was lucky to have a glass with dinner. Although I usually get one in my membership but had to order a case to make sure I have plenty on hand.
Kathleen Kyser
(Feb 13, 2021 at 7:31 PM)
My favorite Rose!