TOP
Cook Drink Learn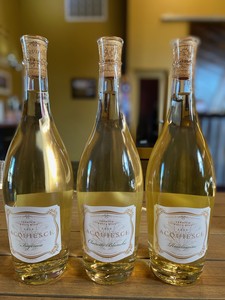 Product Reviews
Heidi Love
(Nov 16, 2020 at 8:02 AM)
We just tried the 2019 Ingénue paired with rich chèvre and jambon—Incroyable! I first noted hint of pear and then bursts of flowers and seemed to lift me up like a lovely cloud. It is well-structured, vibrant, medium full-bodied, and has an amazing finish. Well Done Acquiesce!
Heidi
(Dec 6, 2020 at 10:53 AM)
We opened the Clairette Blanche for Thanksgiving. We had planned to serve it with our Turkey yet my family loved it so much it didn't make it through the appetizers. I wish we had purchased more. It is smooth rich and filled with hints of pear and delicate flowers. Delicious.